One of my users is not showing on one of my transactions screens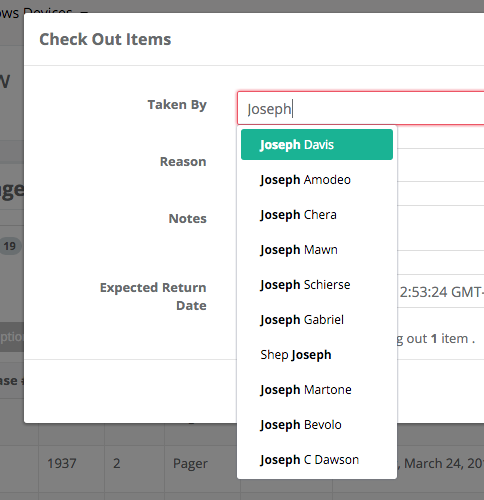 Scenario: I am in the check out screen and I am trying to check out an item to a Joseph (just an example for this scenario) and the Joseph I am looking for is NOT showing in the list.
Response: Upon further research we found that this Organization has 23 'Josephs' in their system. The menus that allow you to auto fill a username will only display up to 10 options at a time, so in this case the Joseph that I am looking for is further down the list.
Fix: Search by last name. In this case it allowed me to quickly find the user I was looking for.
FYI: The menus currently do not allow you to string a first name and last name together. Just type in the last name by itself.
Related Articles

Reference Manual for General Users Version 10.03.2017

Attached is the Reference Manual for General Users Version 10.03.2017 in Adobe Acrobat format. Click the Attachments Tab to view it. If you are unable to read this file, please visit http://www.adobe.com and download their latest version of Adobe ...